This week, I'm on a Caturday Flashback journey to February, 2015. I wasn't even a year old yet… but I don't think I look all that different than I do now!
Some other things are the same, such as the way my human prepares her tax paperwork. She was back to the same, handwritten system this year.
I've seen some things change, though. I was competing in cat shows back then. These days, I much prefer just showing up and greeting the public as a Pet Me Cat.
I did do well at that show, and got 6 finals that weekend. But even back then, you can see I was focused on being social. That's why the "I Love You" sign was there.
I used that sign again for the Valentine's Day party I had that year. As you can see, Binga photo bombed me. That's one thing that's always the same!
That was a cool party that year. The catering was awesome! We had a heart-shaped chicken pizza.
And there was the candy box that was full of cat treats instead of chocolates. That was really cool too!
This tiara is still around somewhere. In fact, my human knows exactly where it is.
It will probably make a reappearance sometime in the not-too-distant future.
* * *
---
---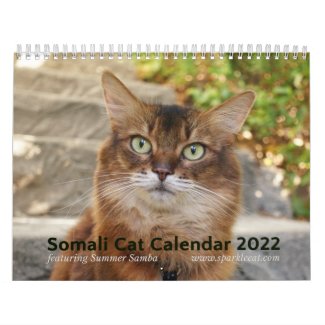 2022 Somali Cat Calendar Starring Summer Samba
See all of Summer's merch at her
her Zazzle Designercat Shop