I really miss doing cat shows — I've only gotten to do one this year. (I will be busier next year.) But what I also miss is traveling to other cities for shows. So I thought I would look back to one I did four years ago this weekend: the CFA International Cat Show in Portland, OR.
It was a big cat show, maybe the biggest I've ever done! I was still just a Pet Me Cat at the time, not a full CFA Ambassador. But I was prepared for lots of visitors. I even had this sign. When my human had to step away from my benching area, she would lock me up in the enclosure (yes, with actual locks!), and flip the sign over. It had a clock that said what time she'd be back.
I was benched next to the Somali breed booth, which had quite a few photos of me on display.
We didn't bring a lot of outfits for this show, just a few festive things, since the holiday season was starting.
I didn't just stay in my benching area either. There was a spot in the front of the show near the entrance for Pet Me Cats. I hung out there periodically so people could visit me as soon as they came in.
This view shows you some of the show hall! It was huge!
It was a big weekend for me, but I enjoyed all of it, including the hotel room. In case you are wondering why the bed has only one pillow, the rest of them were squished in the space under the headboard. That was to keep me from wandering back there. It's a little hotel room trick my breeder taught my human. And she's been stuck using just one pillow to sleep on ever since.
Other posts you'll enjoy:
* * *
---
---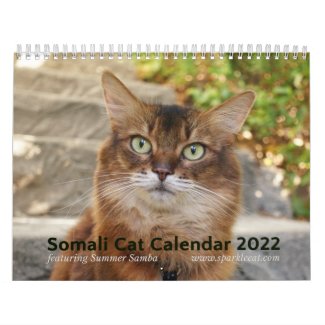 2022 Somali Cat Calendar Starring Summer Samba
See all of Summer's merch at her
her Zazzle Designercat Shop