I thought it would be fun to do a Caturday Flashback. The photo library is arranged chronologically, so I had my human randomly choose a month, and it happened to be April, 2014. It was an interesting month. I was only a few weeks old at the time, and Sparkle hadn't gotten really sick yet. Who knew how drastically things were going to change over the next four months? Certainly not Sparkle — she was busy reviewing books. This one was How to Make Your Cat an Internet Celebrity. As if she didn't know how to do that already!
Want to know the type of relationship Sparkle had with my human? Here you go. My human was just trying to move her a little over to the left, and in return, she got that face. Sparkle did not like it when my human got grabby, that's for sure! I don't think I can even do that face.
All I have to say about this photo is, some things never change.
I have no idea what was going on in this photo. Why was my human in her boyfriend's music room, holding a container of Parmesan cheese? And why was Binga so desperate to have it? If you look on top of the guitar cases, you can see Sparkle's feet.
Here are Sparkle, Binga and Boodie all in one shot! As you can see, Sparkle and Binga really, really wanted to get in that big box, but Boodie was occupying it. I don't know how she managed to get in there first. That's the box our current printer came in.
And here is a profile of Sparkle, enjoying the sun. I hope you liked this Caturday Flashback!
(Link to the book is an Amazon affiliate link.)
* * *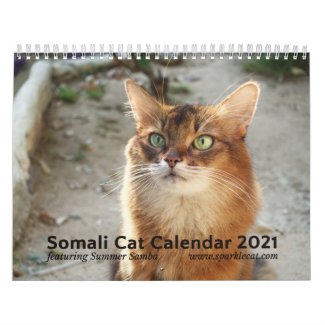 2021 Somali Cat Wall Calendar, Starring Summer
See all of Summer's merch at her
her Zazzle Designercat Shop