My predecessor Sparkle was very much involved in cat rescue. She felt that as a pedigreed cat, she had an even bigger responsibility than most to support shelter cats and adoption. She spread the word often about cats who were desperate. During the early years she was active in online cat rescue, it was important to spread the word about these cats. Rescues didn't have the resources and weren't as social media savvy back then, so it was up to cat bloggers to step in and fill the gap. Here is one story of a black cat in Georgia, back in June of 2010, who might have died if the blogging kitties hadn't stepped in and spread the word about her.
How could you turn away from this face? Sparkle heard about her from a friend of my human's, Robin from Covered in Cat Hair. Even though she lives in Connecticut, she helps kitties in Georgia (yes, still to this day), and she first posted about her. This young black cat was a lactating mom, but whoever brought her to the Henry County Animal Care and Control in McDonough, GA said they could find no kittens.
This kitty was such a sweetheart, she was making happy paws, not realizing she was on death row. Robin couldn't help this girl, but she begged somebody to step in and do something. Sparkle knew she had to help, so she shared her on Facebook and blogged about her. The date on the blog post was June 29. This cat was scheduled to be euthanized at the end of the day on June 30. The internet had less than 48 hours to save her.
The word spread about the black kitty like things only can on social media. But for quite a few hours, no one actually stepped up for her. Someone from a blog some of you longtimers remember called Cats Goats and Quotes offered to pick her up — but she couldn't keep her. (She already had 10 cats.) Just when it started looking hopeless, someone at a Little Rock, AR rescue, Feline Rescue and Rehome, found out about her. The kitty looked just like a cat that had belonged one of their volunteers, and had recently died. So the rescue started coordinating to get the cat to their volunteer. The Cats Goats and Quotes human picked up the kitty and held her while the arrangements were being finalized to bring her to Arkansas.
Renamed Freya, the kitty had a happy ending that was nothing less than a miracle rescue. But the story didn't end there. Another rescue that had been interested in Freya wound up rescuing a white kitty that was also on death row. And one of the workers at the Georgia ACC offered to help Robin pull some kittens. Back in the early days of social media, there were many dramatic rescue stories. It's a lot different now. More rescues know how to work social media, and more adopters look on the internet for their next cat. Rescue transports have become more sophisticated. We still have lots of work to do to become a no-kill nation, but we have made lots of progress.
* * *
---
---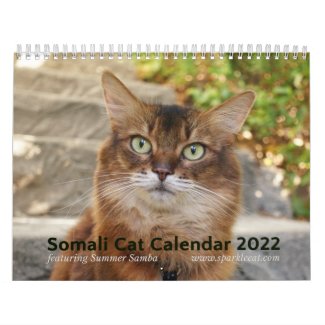 2022 Somali Cat Calendar Starring Summer Samba
See all of Summer's merch at her
her Zazzle Designercat Shop