2018 was the Last time March seemed normal. Last year, the pandemic was just getting started, and 2019 was when my human's ex-boyfriend was packing up for his move to Nashville (he and Smokey are doing great there, by the way!). A lot of what I did in 2018 was the same as what I do now… and a lot of it won't ever happen again.
Here's one of the latter… the Binga bombs. I wasn't happy about them at the time. Well, to be honest, if they were still happening today, I'd probably be just as annoyed!
And here's Binga going for a walk outside and reaching for a bag of treats. Two of her favorite things.
The fashion was better in those days! I'm still looking for some nice clothes, but so far 2021 seems like a fashion fail.
My training practice is one constant. It's important to keep up my skills.
Here's one thing I've missed for the past year — my therapy cat visits! I'm hoping that I can get back to doing them sometime in 2021. Keep your paws crossed on that!
Other posts you'll enjoy:
* * *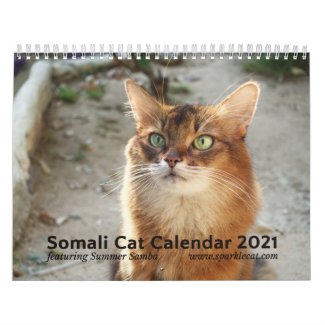 2021 Somali Cat Wall Calendar, Starring Summer
See all of Summer's merch at her
her Zazzle Designercat Shop