To open up August, I thought I would look back two years ago to see what was going on then. That month, I had just reached 10,000 followers on my Instagram account (I'm now at about 25K!), and I shared some photos on the blog that had only previously appeared there. One of them was the scarf shot you see above.
Binga got to model some of my clothes. In fact, you might recognize this dress from a recent modeling session of mine!
I got to go to a cat show up in Roseville, California! It was very hot up there, but the hotel lobby was nice and cool. I really miss cat shows, although this one was sort of uncomfortable because of the weather.
And lastly, I got to model some… winter wear! The cold weather fashion showed up at the pet stores early that year.
I hope you enjoyed my fun flashback. That was a good month!
* * *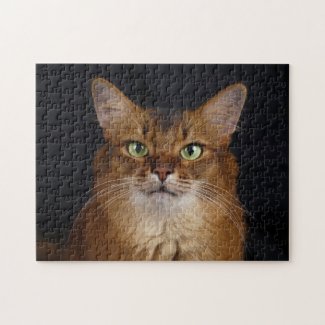 Somali Cat Photo Portrait Jigsaw Puzzle
See all of Summer's merch at her
her Zazzle Designercat Shop