On the Caturday before Easter Sunday, I thought it would be fun to share some flashbacks from past Easter photo shoots. In fact, I went way back to 2015 for this one! Yes, that bunny hoodie has been around for that long. this photo session was actually in August and the good photo wound up in my 2016 calendar and on a card.
For 2016, I did a blog post talking about the dangers of Easter. I don't know why, but my human had this smirking bunny Pez dispenser as a prop. Clearly I was not impressed.
The session in 2017 when I posed with the Easter colored skulls was really a total outtake! But here's a photo that you haven't seen before.
Here I am in 2019 and I'm still wearing the same bunny costume! But that's not why I have my "I see dead people" look. I don't know why, to be honest. That would have been a better facial expression when I was posing with the skulls.
And here is an outtake from a photo session this year that you won't see… because nothing good came of it. My human was having a hard time coming up with a good setting for me this year… until she thought of what you are going to see tomorrow.
I hope you enjoyed these outtakes! If you have a favorite, let me know in the comments. You guys surprise me sometimes!
Other posts you'll enjoy:
* * *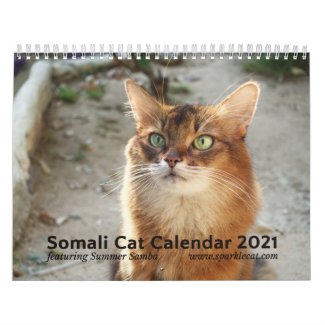 2021 Somali Cat Wall Calendar, Starring Summer
See all of Summer's merch at her
her Zazzle Designercat Shop