Since I think this will be a nice Christmas, I also wanted to look back at the last time I had a nice holiday with Binga and Boodie. That was in 2017. Even though they were both around in 2018, my human was sick, plus things weren't happy here. The next year, Binga wasn't here anymore, and the year after that, Boodie was gone.
I think 2017 was the best Christmas I had with them because that was the year I got them Christmas gifts!
Yes, I actually went to the store and picked them out myself.
Yes, I tested out Binga's gift. I don't think she ever found out, or I would have gotten the whapping paw!
Typically, Binga wanted to take possession of both presents on Christmas morning.
Boodie didn't seem to be that excited by her gift, which was a little disappointing.
My human got this gingerbread scratcher house for all of us. I bet you think that Binga wound up hogging it.
But you'd be wrong!
Do you have a special kitty Christmas memory? Let me know in the comments.
Other posts you'll enjoy:
* * *
---
---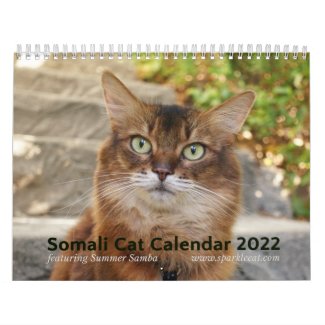 2022 Somali Cat Calendar Starring Summer Samba
See all of Summer's merch at her
her Zazzle Designercat Shop