We kitties were so surprised on Christmas morning to find presents under the tree — for us!
I had told my human not to get us anything, and to just donate the money. We still couldn't wait to open up the gifts, though!
They were cool holiday cat scratchers — my human got both styles available! Then I realized… she had gotten them a month ago and just forgotten to set them up for us, so she wrapped them up as gifts instead. I hope she is still planning to make those donations I told her to do!
My human did not read the instructions on how to put them together. Fortunately, the gift box scratcher was easy.
The gingerbread house was a little more complicated, but she got that together too. Binga helped.
The moment it was assembled, I went in to try it out.
I liked this one lots too!
My favorite part of this one was that it has windows so I can wave at people and other kitties!
Of course, I shared these gifts! This Christmas turned out to be way more fun than I expected!
* * *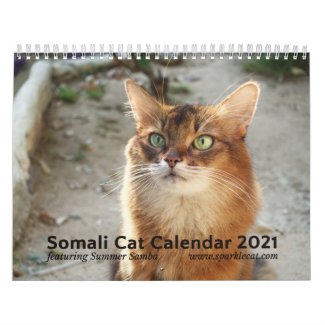 2021 Somali Cat Wall Calendar, Starring Summer
See all of Summer's merch at her
her Zazzle Designercat Shop