What I didn't tell you in yesterday's post is that there was a pest hanging around the box.
She thinks that rubbing on the box will mark it as hers. With me sitting right in it!
Can't somebody make her stop?
Can you read our minds? We are both saying something to the effect of, "What is this sharing of which you speak?"
I guess I will let Binga have the box for a little while.
You know, I was just thinking that I could pack up Binga as a bonus for my last giveaway. People are always wanting me to include her, after all….
* * *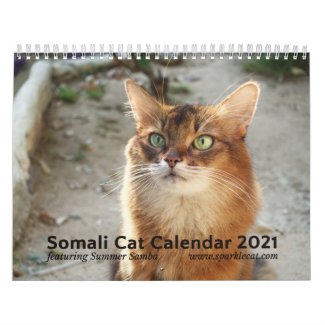 2021 Somali Cat Wall Calendar, Starring Summer
See all of Summer's merch at her
her Zazzle Designercat Shop