I think this week's outtakes may just have an extra added dose of cattitude! I definitely have it in the photo above.
My human was so busy trying to get a photo of me with this Cat Crazy toy that she almost forgot the most important part — throwing it for me to chase!
The way I was excitedly sitting up here, there's no way she could forget to give me the treat she was holding.
When you have ears like mine, you are always having to deal with them coming out of your hoodie. When I wear them, I wind up with lots of photos like this, but I think I look especially annoyed in this one.
Here I am, giving my catnip heart a look as if it has done me wrong. I will say, I was already high when this photo was taken.
Andddd… that's the end of my outtakes! Which one did you think had the most cattitude? Let me know in the comments!
Other posts you'll enjoy:
* * *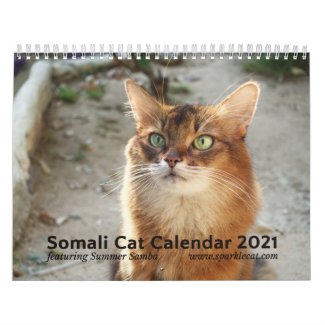 2021 Somali Cat Wall Calendar, Starring Summer
See all of Summer's merch at her
her Zazzle Designercat Shop