I was going to post about the turret in our house today, but it was overcast and my human couldn't get enough good photos. So instead I'll share some recent photos of me with my tongue out. The turret will have to wait for some sunlight.
Why does my human get so many shots of me with my tongue out? I don't know! Maybe it's because of the treats I get for these photo sessions. Or maybe it's because my human has a talent for getting wacky photos of me.
I'm not sure what was happening here! Maybe it was my statement on this silly costume I had to wear.
Remember when I got the surprise bacon? I look like I'm about to heave here! (There's a tongue photo in the original post too.)
This photo was a little too blurry to use for my shopping trip post, but you can still see a sliver of tongue as I drool over those cat toys!
My human took exactly three photos of me in the parking lot before a therapy visit. And one of them was me with my tongue out. See what I mean about her and her wacky photos?
* * *
---
---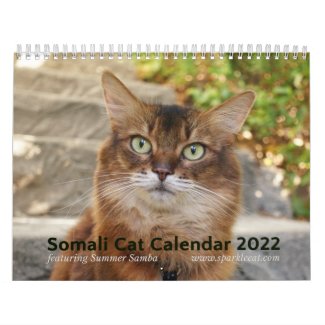 2022 Somali Cat Calendar Starring Summer Samba
See all of Summer's merch at her
her Zazzle Designercat Shop