Here it is, cuatro, I mean, CATro de Mayo, and Cinco de Mayo has kind of snuck up on us here. To say we are unprepared is putting it mildly. But undaunted, my human has gone through my wardrobe in search of an outfit for the holiday. In case you are wondering, this headband is not one of them. Let's see what she did pick out.
Unfortunately, this is one of the first things she chose. You may remember it as a fashion failure. Every time I've worn this, I feel like a waitress at a chain Mexican food joint in New Mexico.
There is always one of my tiny sombreros (I have two or three!), and my even tinier serape. The only problem is the hat is always flopping around.
Also included is my taco costume. Which is comfortable, but admittedly silly beyond words.
Or… the taco costume and the tiny sombrero! Ugh. I'm not thrilled with any of these choices, are you? I mean, they feel fine on and I don't mind wearing them, but they look terrible! What do you think? Let me know in the comments.
Other posts you'll enjoy:
* * *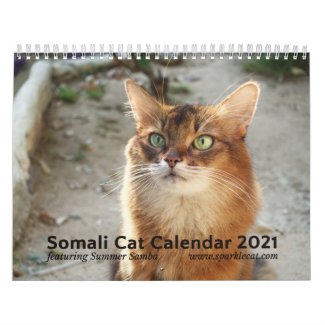 2021 Somali Cat Wall Calendar, Starring Summer
See all of Summer's merch at her
her Zazzle Designercat Shop