About two-thirds of cats love catnip, and 80 percent enjoy silver vine, which includes matatabi sticks. I happen to love both. But we were wondering if I had a preference. So I got to compare — and decide!
Catnip toy vs. matatabi stick — which one do you think I will pick?
I've had this Yeowww! catnip rainbow for a long time. I have to say, these toys have staying power when it comes to potency!
You probably remember when I got the matatabi stick! It's a new favorite with me.
So which one will it be? The Yeowww! rainbow is very tempting.
But so is the matatabi stick!
Annnnd… the Yeowww! rainbow has me down for the count!
But the matatabi stick is asking for a rematch! I may be here for a while.
* * *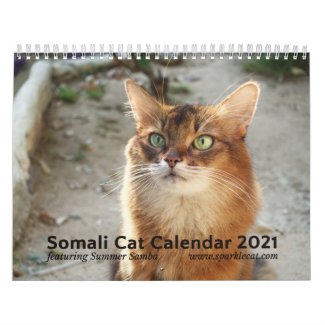 2021 Somali Cat Wall Calendar, Starring Summer
See all of Summer's merch at her
her Zazzle Designercat Shop