When I was at the Meow Meet during last month's CatCon, I ran into somebody with a brand new company that sells fine herbs for cats. She offered to send me some samples… as if I would ever say no to that! So a few days ago, this lovely box arrived from Tabby James!
It's a three-pack: regular cut catnip, fine cut catnip, and valerian root. This isn't just any old herb, though — they all come from certified organic farms and are 100% chemical free! Each glass jar is sealed airtight so they arrive fresh and potent. And the presentation is both minimal and elegant — perfect for gift-giving.
I decided to give each jar my own discerning sniff test.
The regular cut nip was highly fragrant and sweetly intoxicating.
The fine cut nip is just as intense, with less mess. I thought you humans would like that last part. I was already a little high from the regular cut, so I may have been a little dizzy when I tried this jar.
And the valerian! Wow. I'm surprised I didn't pass out from pleasure.
After trying out all three, I attempted to pick my favorite. It was difficult.
So I called on my assistant herb testers.
They too were impressed by the high quality and intense fragrance.
In fact, somekitty was so impressed that she decided not to let the other kitty have anymore!
Thank you to the Tabby James human for these! We really love them and we highly recommend your fine herbs!
Disclosure: We were provided with this boxed set of intoxicating cat herbs by Tabby James for our honest opinion. I wasn't actually asked for a blog post… but I wanted to share this cool product with my readers!
* * *
---
---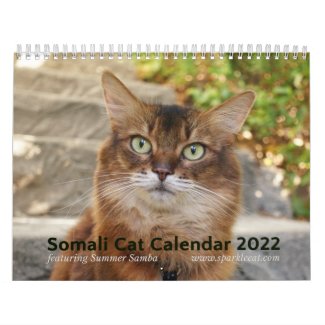 2022 Somali Cat Calendar Starring Summer Samba
See all of Summer's merch at her
her Zazzle Designercat Shop