We are lucky — we only live 10 minutes away from where CatCon was held this year! And I mean that literally. The round trip from our house to the Pasadena Convention Center was just 9-1/2 miles! You'd think my human would figure out a way to get them to allow me to come — a hyper-socialized Therapy and Pet Me Cat who has flown to more cities in two years than most humans will fly in 10. But she only got herself a press pass. Maybe I'll be more famous by next year, and I'll get my own Meet and Greet.
Anyhow, my human went both days, and still didn't get to see everything! But I will tell you some of the highlights… here is what was going on in the two Exhibition Halls.
There were lots of cool cat toys, including these fun ones from Polydactyl Cat.
These cat toys by Kitty Jones were fun looking too! I just want to say, there were loads and loads of booths with cat toys, but my human did not bring me home any! She says she wasn't there to shop, but still.
There was lots of cat fashion for humans there, but since my human won't wear clothes with cats on them (should I be insulted by that?), she didn't take any photos of the outfits. Well, except for these Lil Bub leggings and shorts. She couldn't pass up a photo of them. By the end of the weekend, the shorts had disappeared off the mannequin.
There were lots of, um, unusual things there. Like the one booth my human walked past — someone handed her a tote and said, "We can clone your pet." (I just want to say that I am a little insulted that they only charge half as much to clone a cat as they do dogs. No, my human didn't ask. There was a price list on the brochure in the tote.) And then there, were these Licki Brushes. Have you seen the video on the internet, of humans using these to lick their cats? They actually do exist!
These soaps were actually pretty and smelled nice, but they didn't make any catnip scented! I think the maker lost a really good opportunity because they totally would have sold at CatCon.
This company was selling cat litter in psychedelic colors! The colors weren't meant to detect illness, like some litter is supposed to. They were just colored for fun… if you think cat litter is fun.
The one thing that bummed out my human was that there weren't really any cat clothes that she thought I would look good in. She found some tutus… and these emoji poop hats and dunce caps. She was not going to make me (or even Binga) wear those hats! They were a pass.
Our pals from Arm the Animals had a booth! Remember my blog post about my visit to their offices?
My human was also happy to see these Hatch carriers! I blogged about them when there was just a prototype, and my human had to Photoshop it into pictures with me. They're real now and for sale!
Next to the Hatch booth was this woman spinning yarn… from cat hair! She makes fiber art and handcrafted yarn from your cat's fur. It was actually really cool to see. My human chatted with her and her husband, and they told her they have three cats at home — two Sphynxes and a Devon Rex! So basically, three cats that have little or no fur. My human thought that was hilarious. If you want to see some of Theresa's work, the company is Nine Lives Twine.
This was my human's favorite product of the whole conference. It does not look like much, but a lot of love, and a lot of testing went into making it. It's called the Kitty Box Ramp, and it helps senior, arthritic and disabled cats get in and out of the litter box. The human who created it made sure it would hold the weight of heavier cats, gave it sides to keep unstable kitties from falling off, and made its walking surface replaceable in case of accidents. It's so simple, but so well thought out!
This display is one of the many reasons I'm sorry I couldn't come to CatCon. Doesn't it look like loads of fun? By the way, I just want to say that my human spent time visiting her good friends at Triple T Studios and Cat Lady Box… and she forgot to take photos of their booths! That's kind of embarrassing, isn't it?
What else went on at CatCon? Adoptions! They built several glassed in rooms for people to visit with kitties, and lots of them got adopted! By the middle of the afternoon on Sunday, 111 cats and kittens found homes. I'm not sure what the total count wound up being.
CatCon also featured seminars, but the only one my human caught was the one by Dr. Paul Koudounaris, who I actually met at a cat show once! He spoke about "Southern Catifornia," or the history of cats in southern California. It was a little ironic that his talk was the only one my human saw because growing up in Los Angeles, she knew most of it! Ask her about Pepper, the silent movie cat, or Orangey, the feline star of Breakfast at Tiffany's, or Room 8, the cat who adopted a classroom and found worldwide fame. She can tell you all about them… just maybe not onstage.
My human did go to the awards ceremony Sunday afternoon. The charity beneficiary was the Somerhalder Foundation, and Ian Somerhalder was there himself to talk about how his charity helps animals.
Cat rapper Moshow and his kitty sidekick Ravioli gave out the award for best vocals by a cat. Moshow also performed a couple of numbers for the audience. That was a lot of fun, I hear.
The most important award of the show was "Biggest Newcomer," and I'm so happy that Sir Thomas Trueheart won! He was the victim of a horrendous and cruel acid attack, and was rescued by Milo's Sanctuary, here in southern California. Sir Thomas is one of those amazing miracle kitties, and he really deserved this award.
So that was CatCon. My human had fun… but I am glad she's back home with me!
* * *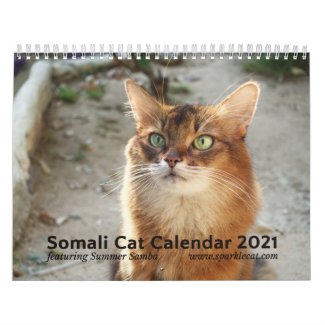 2021 Somali Cat Wall Calendar, Starring Summer
See all of Summer's merch at her
her Zazzle Designercat Shop