That's right, I have winners for my Cat World Domination Day giveaway! Announcing them is one of my favorite things to do.
The winner of the bigger box — the one I'm pointing at — is Kathy M! And the smaller box is going to Cassandra D.
Concatulations to you both! But wait — there's more!
I also have a winner for my Instagram-only giveaway! My young pal Loki's name was randomly chosen.
Loki is still a kitten, so he is probably too young to appreciate catnip. But he has an older sister, Sashi, who might so I had my human sprinkle a little nip in the bag of toys before sealing it up in the box.
This was my first time doing a giveaway on Instagram, and I really enjoyed it! I think I will do another one when I hit 10,000 followers. I have around 8,400 right now, so I'm not too far off! If you are Instagram you can follow me at @summerstravels.
* * *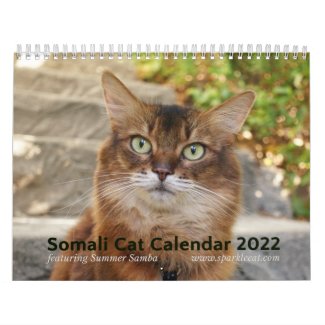 2022 Somali Cat Calendar Starring Summer Samba
See all of Summer's merch at her
her Zazzle Designercat Shop