What happens when you party a little too much? You get photos like the ones in this post! I hope you enjoy these Cat World Domination Day outtakes as much as we did (unintentionally) making them.
It looks like I was mouthing off to the photographer, doesn't it? Um, maybe I kind of was.
There was definitely mouthing off going on here. And maybe some biting.
This photo is all the photographer's fault! For one thing, the sign is growing out of my head. For another thing… geez, what was I doing with my tongue? And lastly, my tongue wasn't anywhere near the popsicle either — my human should have been holding it closer to my face.
Things didn't get any less crazy when we took photos with the giveaway prizes. Here is Binga sneaking up on me when I'm not looking.
Yes, Binga is wearing the cat socks. I don't know why my human put them on her. I didn't think humans got high on catnip.
Somebody had definitely had too much catnip here, and it wasn't my human! When Binga gets too whappy, I roll over like this. I'm not sure why I'm grabbing onto the socks. As you can see from the last photo, they don't exactly make good weapons.
That's it for the Cat World Domination Day outtakes!
* * *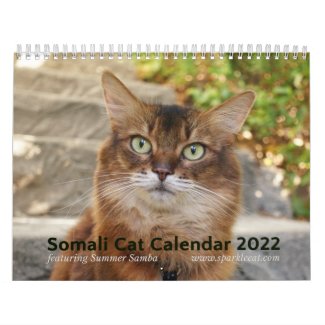 2022 Somali Cat Calendar Starring Summer Samba
See all of Summer's merch at her
her Zazzle Designercat Shop