Yes, it's that time! Time for me to announce my annual Cat World Domination Day, and time for my human to pull this globe off the shelf.
In spite of its modest beginnings (my human created it as a tenth birthday gift for the cat before me and founder of this blog, Sparkle), Cat World Domination Day has become kind of a phenomenon! If you Google Cat World Domination Day, the first thing that comes up is the date!
This is actually a big Cat World Domination Day because it is our tenth one! I have a big party every year, and this one isn't any different from the others in that way. I mean, we can't do anything really huge, like fireworks. Cats hate fireworks anyway.
Anyhow I had to try out several poses with the globe, and as usual, my human wasn't terribly happy with any of them.
She even tried a few with me wearing this silly crown.
Anyhow, this is the final photo she chose for the graphic. People don't really post badges on their blogs like they did in the old days, but if you want it, it is yours for the taking. We have a fun party planned, and I hope you will be here on the 24th!
Other posts you'll enjoy:
* * *
---
---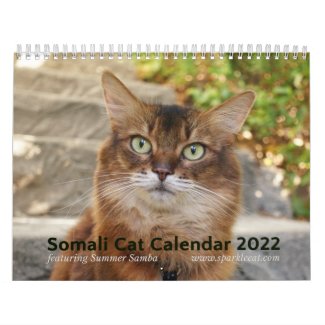 2022 Somali Cat Calendar Starring Summer Samba
See all of Summer's merch at her
her Zazzle Designercat Shop