Cat World Domination Day is coming up! I know you are all excited — I am too! Once again, we kitties will be celebrating our world domination.
I need to get ready. In fact, I am starting my grooming now! I have so much other stuff to do, too: menu planning, shopping for an outfit, putting together a giveaway. I'm exhausted just thinking about it all.
Here are this year's graphics. I heard a rumor that next year, I may have to do the graphic myself!
Here is the 500px size. It's just right for a blog post!
This is for your sidebars. Right click on either graphic if you want to use it on your own blog or on social media. I also have a super big size on Pinterest, which you can see here: https://www.pinterest.com/pin/17029304823481979/
I'll be putting together the giveaway for a while yet, but I wanted to show you a sneak preview, since one of the items came in the mail yesterday.
My human forgets who, but somebody she knows on Facebook posted a photo of this Campbells shortbread tin with the Scottish Wild Kittens on the front. She knew she had to have it, and she searched furiously all over the internet — only to find it was a limited edition, and that it was sold out almost everywhere! Well, like I said, almost. She found exactly one place in the U.K. still stocked them… and she ordered two. She couldn't order one for herself without also getting a second to give away to one of my readers.
Here is a close-up of the tin. Isn't it the coolest thing ever? Unfortunately the cookies are just regular shortbread shapes, but who cares? Whoever wins is going to eat them anyway! You get to keep the box forever and put whatever you want in it once you've eaten all the cookies.
This is just one of the prizes I'm going to have to give away on Cat World Domination Day! I'll be working on everything else over the next few weeks.
* * *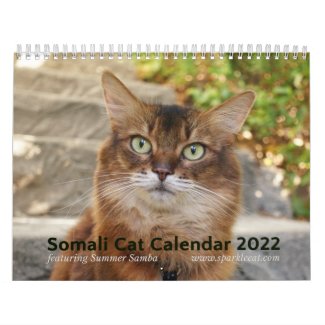 2022 Somali Cat Calendar Starring Summer Samba
See all of Summer's merch at her
her Zazzle Designercat Shop