Remember my photo session from a couple of days ago, when I mentioned I didn't like all the cat toys my human was using? Well, I am going to give you a run down of the cat toy winners and losers today!
Can you guess which ones I liked, and didn't?
This one definitely shows promise… even though my human neglected to remove the price tag.
This one's for sure a winner! Actually, when my human first bought it at a cat show (all these toys came from cat shows), I played with it right away. So maybe I am cheating a little since I already knew I would like it.
I seem to be pretty fascinated by this cat toy, don't I?
And… we have another winner! Because of the long strands, my human is extra careful to make sure this toy is out of my reach when she's not using it to play with me. It would not be a good thing if I ate any of them!
And finally… hm, I don't seem terribly impressed with this one, do I?
Yep, it's a big fail here!
Are you surprised by any of my winners or losers? Or do you agree with my choices?
* * *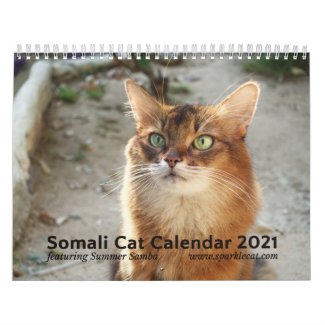 2021 Somali Cat Wall Calendar, Starring Summer
See all of Summer's merch at her
her Zazzle Designercat Shop