Usually when I share my outtakes, I have at least one photo of me and my tongue. This week I didn't! I had so many tongue-out photos that I could dedicate a whole blog post to them. So that's what I did.
I look like I'm giving my human the subtlest of raspberries in this photo.
This is my not so subtle tongue after I got a treat!
Here I am, displaying my special cat talent: touching my nose with my tongue. Humans may have the thumbs, but they can't do this!
I frequently get something tasty when I visit the pet shop! That must've been the story behind this photo.
And for those of you who may have wondered… yes, my human got a screen grab of me with my tongue out when I was looking at the cod we cooked the other day.
I hope you enjoyed my tongue out photos today! If you had a favorite, let me know in the comments.
Other posts you'll enjoy:
* * *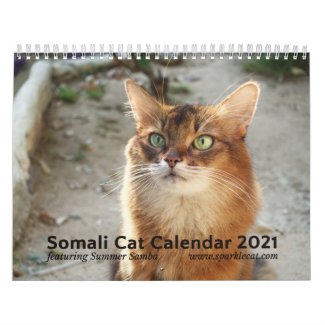 2021 Somali Cat Wall Calendar, Starring Summer
See all of Summer's merch at her
her Zazzle Designercat Shop