I was busy at the cat show and really hadn't thought about doing selfies. Some weeks are like that — the selfies are kind of an afterthought. But when I did remember, I also learned something important about taking cat show selfies: you need to be aware of the background.
I was setting up the iPhone when I noticed I was posing with an Exit sign right behind my head.
This angle is even worse — you can see a trash can in the background!
This would be all right if it wasn't for those ribbons floating over my head. It's nice that some cat is getting finals, but they are distracting.
Now I'm being photo bombed by some human! Plus I look like I have a blue bow growing out of my ear. Oh well, these will have to do this week.
* * *
---
---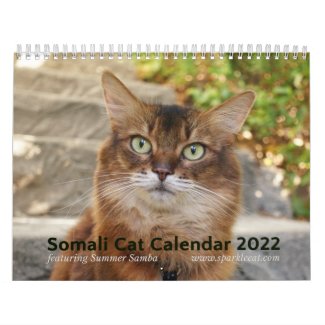 2022 Somali Cat Calendar Starring Summer Samba
See all of Summer's merch at her
her Zazzle Designercat Shop