This weekend's cat show is a little on the quiet side, although I've gotten to visit with quite a few people! But I had more than enough time to grab some selfies. As you can see, I'm wearing my Day of the Dead Peter Pan Collar. It was a last minute add-on to my wardrobe — it was sitting on my human's desk.
Speaking of my human, she left her iPhone lying in front of my enclosure, so I'll just reach over and use it.
Ugh! That's a terrible angle. I need a redo.
I'd better position the iPhone at a more flattering angle.
Much improved! I'll tell you about the rest of the cat show tomorrow.
* * *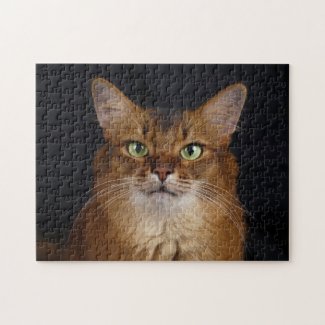 Somali Cat Photo Portrait Jigsaw Puzzle
See all of Summer's merch at her
her Zazzle Designercat Shop