I've been having lots of fun at the cat show this weekend, and I can't wait to tell you all about it! But that'll have to wait until Monday. I did pause for a few moments to take a selfie, and that's what you're getting today.
I just need to grab my human's iPhone — its battery is running low, so I had better hurry!
Ugh! I was trying to switch the phone to selfie mode and accidentally took a photo! I hate when that happens.
Ah! Much better! I'm looking forward to telling you about the rest of my weekend!
* * *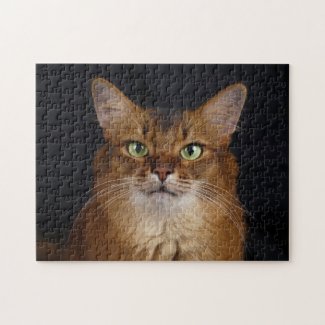 Somali Cat Photo Portrait Jigsaw Puzzle
See all of Summer's merch at her
her Zazzle Designercat Shop