I've got a cat show this weekend! It's only 10 minutes away from my house, so I can pack as much wardrobe as I want. But I may have too many things picked out already. I will model some of it to see what you think. I can already tell you the kimono is a keeper. I've only worn it for one photo shoot, and for Cat World Domination Day.
As you know, accessories are really important. But you need to make sure they match the outfit. For example, I don't think this tiara goes with the kimono.
This is probably my last cat show for the summer so I want to wear some of my lighter frocks, like this breezy dress with the cherries. I think it's the most summer-y dress I have.
I've worn this outfit a bunch of times before, but it's really a good one!
This is new… it's a cute knit scarf that my human got at CatCon, and a one of a kind item. I haven't worn it before. I should probably include it.
I don't wear this necklace that often, so maybe I will pack it.
But no matter what outfits I bring, I always bring my bell! If you are in the area and stop by, I hope you ask me to ring it!
* * *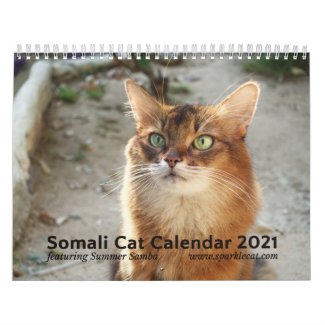 2021 Somali Cat Wall Calendar, Starring Summer
See all of Summer's merch at her
her Zazzle Designercat Shop