Look! My human actually got one good photo of me with my Pet Me Cat area, unlike the 5 or 6 awful takes (you can see one in Sunday's blog post!). I just want to say, I had so much fun at this Glendale show!
It started off kind of cold, though! It was freezing in the show hall for a good part of the day. Like, colder than the hall was at Meet the Breeds in New York! My human had to sit in her car for 10 minutes with the heater on to warm up at one point, and got a cup of coffee just to warm her hands with it. It turned out there was a reason for the chill — the crew who had worked on the heating system a few days earlier got the dial mixed up! When you turned up the temperature, it got colder instead! Finally it got fixed in the afternoon. My human was relieved.
Although I brought both tiaras with me, I wound up wearing the larger one. It was just easier for my human to reach for in my wardrobe bag.
I had such a great time seeing the cat show visitors! There are some events where I am more "on" than others, and I was really on at this show. I barely took a break.
A lot of children showed up, and I always enjoy that. And the kids who come to cat shows generally know better how to pet us kitties. So they were especially fun!
I felt like a total celeb-kitty… which I guess I am!
I wasn't the only star in the family at this show, of course. My nephew Obie was there, in competition. And he did well, as he usually does!
He got four finals out of six rings, including a Best Cat! He is doing very well this season.
* * *
---
---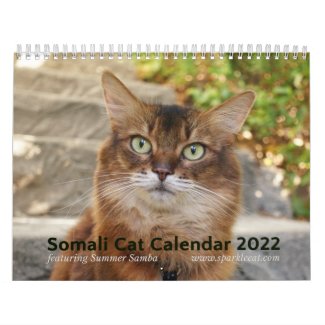 2022 Somali Cat Calendar Starring Summer Samba
See all of Summer's merch at her
her Zazzle Designercat Shop