If you've ever been to a cat show and watched the cats being judged, you are probably wondering what the judges are doing when they examine us kitties. And if you have never been to a cat show, you may be wondering what is going on, period. My human took a lot of photos of me in the ring during my Phoenix show, so I thought I'd explain some things. As you can see above, the judge has hold of my tail while she is looking me over. That way she has some control over me so I don't just walk off the table. I actually did that once, some months ago. I didn't know you weren't supposed to do that!
Often when the judge brings me out on the table for the first time, she (or he) pets me all down my back as she looks me over. As you can see, I am standing proud and confident — but what you might not know is, while it looks good to the audience and judge for the cat to be confident, if a cat is scared but otherwise is a good example of her breed, not being confident doesn't necessarily work against her. Case in point: this past weekend, there was a Siamese cat in my class, and this was only her second show and she was so scared, she was curled up in a ball half the time. It took a lot of effort to stretch her out (which judges need to do with Siamese cats), but every judge was kind and patient with her. She was beautiful and physically a great example of her breed, so she made lots of finals, and by the second day, when she began to realize nothing bad was going to happen to her, she started to move to the front of her assigned cage in the judging ring and show some interest about what was going on. On the other hand, if a cat is mean and swipes at the judge or tries to bite her, that does work against the cat. That's not the type of temperament you want in a show hall.
A lot of times you will see the judge waving a toy around in front of the cat, and the cat playing with the toy. While it's fun and it makes for an entertaining show for the audience, the toy actually serves a purpose — it helps the judge notice things about the cat. Take this judge for example — she is actually looking at my head and ear set while I am looking at the toy. She is just using it to get my attention… which is a good thing because I never play while I'm on the judging table! I just pose and look at the audience like I'm on a catwalk. It's okay if a cat doesn't play, although some breeds, like mine, are expected to. The judges tend to think I'm a bit silly for just standing there, and I have to admit, there are even Persians who are more playful than I am. But what can I say? I just like people to look at me.
I have heard that I have a very good head for a Somali cat, and here the judge is talking about the wedge shape my breed is supposed to have. We pedigreed cats often get our faces squished and heads moved around like this by our breeders as kittens so we are used to having it done in the rings. The Household Pet cats are lucky — they don't have a breed standard to match, so there is a lot they don't have to be prepared to do other than be good in public and around other cats.
Here, the same judge is probably talking about my ear set, which I also hear is pretty good. We Somali cats have ears that are fairly wide set… at least, that is the breed standard. Other cats, like the Maine Coon, should have more upright ears. My breed has larger ears; a Persian's ears should be small. All that is looked at in the judging ring.
Here is a judge looking at the ticking on my fur. Somali cats are what is known as "ticked tabbies," with agouti patterned fur. That means each strand of fur has several distinct bands of color, which all blend together as a whole and sometimes glitter in the sunlight. Judges want to see good ticking on Somalis, and on Abyssinian cats too.
This judge is talking about my neck and chest fur. The creamy colored fur on my neck comes right up to my chin, and my chin is the only part of me with white fur. This is a good thing! You don't want any white coming down into my neck or chest. What they call "high color" is important in a Somali cat.
My human insisted I include this photo, where the judge is holding my tail up and talking about the great condition of my fur and tail. A lot of this is up to grooming. My human works very hard to make sure my coat is in the best condition possible, and she works extra hard to keep my tail fluffed out. This all is is hard because she is a heat seeking creature and we live on the West Coast — these are not the optimal conditions for my having a plush coat. When the judge said nice things about my quality in this area, it made her really happy because she felt her work paid off.
When we cats wind up in a final, we return to the ring, and sometimes we just sit in the cage while the judge talks about us, and he or she only takes out the Best cat, but sometimes the judge takes each cat out of the cage to talk about the qualities that made her choose each one for the final. When the judge finishes talking about the cat, she will hold her up and say something like, "This is my Best Devon Rex and my 5th Best Cat!" or whatever breed the cat happens to be. If you are a cat in the judging ring, you need to be ready for when the judge does this — or you wind up looking a little awkward! In this particular ring I was 6th Best Cat.
I hope you learned something interesting from my post today!
* * *
---
---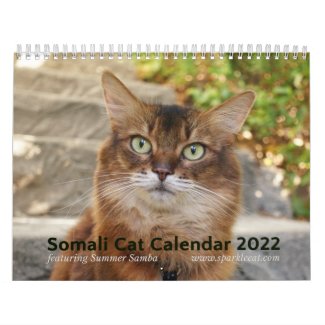 2022 Somali Cat Calendar Starring Summer Samba
See all of Summer's merch at her
her Zazzle Designercat Shop