It's Cinco de Mayo weekend, and my human said I didn't have to wear a sombrero this year. But of course I had to wear something else, i.e., this taco costume. So I get to be Taco Cat on Cat-ro de Mayo.
And of course, I have to pose with tacos too. I hope you can tell me apart from the actual tacos!
My human let me sniff the tacos, even though she said they were too spicy for me to taste.
I hope you aren't getting cheap tacos like these on Cinco de Mayo!
If you are having a fun dinner at home, I have an awesome fish taco recipe for you. My human made it up. It is totally easy to put together, and she says it tastes really good. You just need four ingredients: battered frozen fish fillets (like Gorton's or the cod fillets at Trader Joe's); regular corn tortillas; pre-made, bagged coleslaw mix; and tartar sauce from a jar. The secret is getting really good ingredients. Don't cheap out on the tartar sauce — get one of the good brands. Get a coleslaw mix that has a mixture of cabbage and carrots. Do not get flour tortillas, or my human will smack you. She knows that in certain parts of the U.S., they make tacos with flour tortillas, but that is wrong. Corn tortillas only!
Putting them together is beyond easy. Cook the fish in the oven according to the package directions. Have the open package of coleslaw and the jar of tartar sauce ready. As soon as the fish is cooked, toss the tortillas between some paper towels and heat in the microwave until they are just warm, maybe 30 seconds for two. Or warm them up in the oven for a few minutes on aluminum foil. Spread the tartar sauce on the warmed tortillas, sprinkle on some of the coleslaw mix and add a fish fillet to each tortilla. Fold up the filled tortillas and they're ready to eat! And so tasty. You can add salsa if you like too, but my human doesn't think it's necessary. If you do, make sure it's the fresh kind in the refrigerated section.
If you try the recipe, let me know what you think!
* * *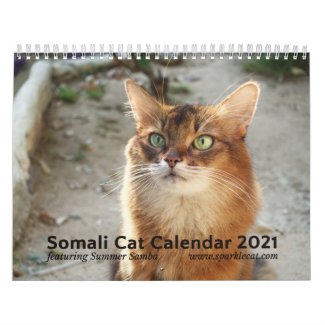 2021 Somali Cat Wall Calendar, Starring Summer
See all of Summer's merch at her
her Zazzle Designercat Shop