I got a message on Instagram from the human representing Litter Genie asking me to be one of their influencers. My human emailed back and forth with them for a bit before deciding to go ahead and say yes. The thing is, we don't really need a Litter Genie. There is only one cat here, and out of my two litter boxes, one is silica, so there is minimal waste to dispose of! Plus my human only has to go a few steps out the kitchen door to dump a small bag of what I produce every day… and she actually likes putting in the extra steps. Basically she said yes for the opportunity to have fun with the photographs.
So instead of having me just sit nicely next to the product, which I'm very good at, she had a bit of cat modeling inspiration. My challenge, and hers, was to get a good photo of me sitting up with my front paws on the Litter Genie.
I will say, if my human had pro camera equipment, like the photographer I occasionally pose for, this would have been a snap. But since my human doesn't have a strobe light to freeze action, it took a bunch of tries. At first I just grabbed the treat and sat back down instead of pausing long enough for my human to snap a photo. Not to mention a photo that was in focus.
And if I did pause at the top, it was usually to eat the treat.
At one point, I realized I needed to clean my paw while I was up there.
In the best photo, I wound up looking a little confused, but at least the focus was good.
Incidentally, you know which photo my human picked for my Instagram share? The first one.
Note: I received the Litter Genie for free, but didn't receive any other additional compensation to pose with this product.
Other posts you'll enjoy:
* * *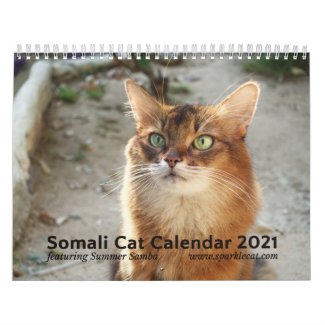 2021 Somali Cat Wall Calendar, Starring Summer
See all of Summer's merch at her
her Zazzle Designercat Shop