It was sunny, but a little breezy, so when I went out, my human had me wear a light hoodie. And since it's Valentine's Day weekend, she had me wear one of my hearts ones.
You've seen this one before. It's my Queen of Hearts hoodie. My human tries to get me to show off the back every time I wear it, and all the writing never shows.
Because of the breeze, I covered up my ears so they wouldn't get cold.
When I was wandering around the yard, the hoodie wouldn't stay on, which I think kind of defeats the purpose of a hoodie. But I wore it for sitting and posing.
I had several outings this week! Every time I get to go out, or go shopping, I make happy paws. In fact, when I know I'm going out around the house, I wait at the door while my human gathers my leash and treats and her camera. Sometimes I talk to her if she is being too slow.
I got to practice some tricks too!
My human is having her Valentine's Day today, a day early. So maybe I will get to do something with her on actual Valentine's Day! We'll see.
Other posts you'll enjoy:
* * *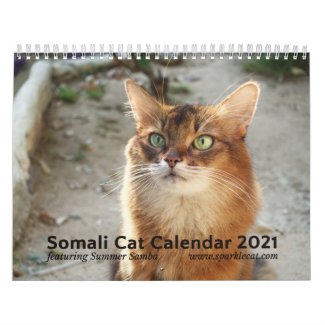 2021 Somali Cat Wall Calendar, Starring Summer
See all of Summer's merch at her
her Zazzle Designercat Shop