My human visited with my breeder at a cat show this past weekend, and she gave her a box of things she picked up for me. Some of it looked like fun. And some of it… well, I have my reservations. So guess which thing my human picked out for a start?
I mean, look at it. It's not flattering like yesterday's velvet jacket and it's got that weird, dangly pink thing at the end. Plus my human says there's one more piece to put on.
And I thought Halloween was over. Silly me.
I guess this explains that silly rat tail and the scruffy gray fur. But I'm not so sure about this cat and mouse game.
As far as comfort level goes, I actually don't mind wearing this. But it is not exactly flattering! I know when I look pretty in something, but in this case I look pretty ridiculous!
* * *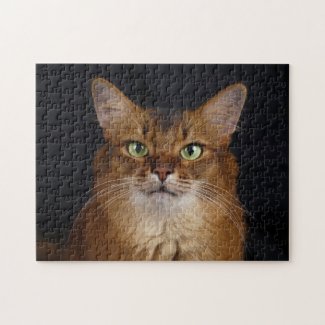 Somali Cat Photo Portrait Jigsaw Puzzle
See all of Summer's merch at her
her Zazzle Designercat Shop