Most of this week's outtakes are from my outings rather than photo sessions where I was posing. So you might call these casual bloopers. In fact, I just did!
If you recall yesterday's pet shop trip, you might recall a much nicer version of this demented face!
I don't recall exactly why I was making a raspberry in the pet store right then. Clearly I disapproved of something going on!
In the cat toy section, my human tried to tempt me with this feather toy… but it looks like she was sticking it in my eye. Don't worry, I don't think she really was.
Here I am sticking my tongue out at Joann Fabrics. If you remember the blog post when I visited there, you will understand why.
Here's the one outtake from a photo session, which happens to be my selfie station shoot. There was even more craziness going on than you you saw on the blog post! I kept rubbing on the sign and knocking it over. And here I am, stepping all over the photo props.
And here is a non-blooper casual photo of me. My human had a friend over the other night for dinner and to watch an episode of Netflix's Cat People. (It was the one with Moshow the cat rapper.) And while they were at the dining table, chatting, of course I relaxed on the table and took part in the conversation. My human thought I looked cute, so she grabbed a few quick photos. This is one of them.
I hope you enjoyed this week's casual bloopers! If you have a favorite, let me know in the comments.
Other posts you'll enjoy:
* * *
---
---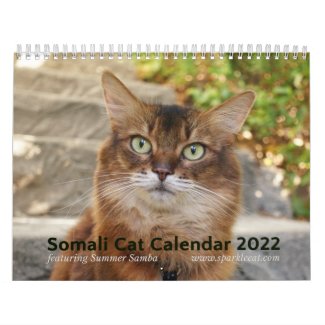 2022 Somali Cat Calendar Starring Summer Samba
See all of Summer's merch at her
her Zazzle Designercat Shop