Last week, when Binga was photo bombing me, a couple of you suggested she wanted to be the model. I don't think you are right, and here is proof. My human decided to put a couple of dresses on her, just to see what would happen if she were the main model for once.
She looks good here, but I will say it was not easy! She didn't want to sit still and when my human went to move her, Binga tried to bite her. Every time my human held out a treat, Binga tried to take her finger along with the treat. She does not know she is supposed to pose first, and get the treat afterwards.
I don't think she liked this dress as much, and she is being kind of unprofessional by letting it show. When you are modeling, you just wear what they put on you and keep your thoughts to yourself.
I tried to explain this to her, but I don't think she wanted to hear it.
Then, just because I could… I photo bombed her.
* * *
---
---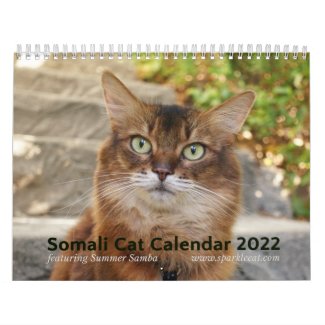 2022 Somali Cat Calendar Starring Summer Samba
See all of Summer's merch at her
her Zazzle Designercat Shop