I was amazed at how many entries I got for my 2020 calendar! But I do have a winner, and it is…
Catherine L!
Congratulations! I am happy to report that between me and Binga, she chose my calendar. Why am I happy about this? Well, check out this screen grab from my human's phone a few days ago.
That's right — my calendar is doing well on Zazzle, but Binga's is outselling mine! And just about everyone else's. Somewhere, she is getting the last laugh.
If you want to buy either of our calendars you can go here. The discount you see in the screenshot has expired, but you can get 25% off this weekend with the code THISWEEKND25.
* * *
Check out my Valentine's Day Collection on Zazzle!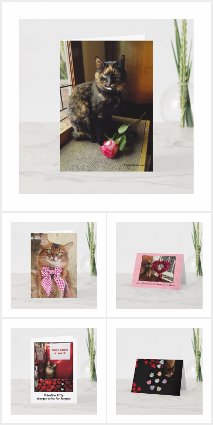 See all of Summer's merch at her
her Zazzle Designercat Shop