No, I'm not in the sink getting a show bath today… I am getting a butt bath. Sometimes if something I ate does not agree with me, I have what my human calls a "blowout," and I wind up here. It's only happened two or three times, really. I attribute this particular episode to a new, unfamiliar brand of cat food. Maybe it was too rich for me or something.
Butt baths are way more simple than show baths. My human only uses one shampoo, and (duh) only my back end gets the bath. Note that my human is wearing rubber gloves. That's also exclusive to butt baths. She doesn't need them for show baths.
Once I had my shampoo, I thought I was done… but I forgot about the blow-dry. That kind of blow-out is one I actually like!
I am mostly pretty good about standing there while my rear end is getting dried. I confess, I kind of like it.
I also helped.
Soon enough I was almost done!
See? I'm all fluffy again!
* * *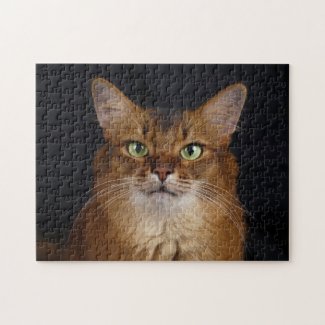 Somali Cat Photo Portrait Jigsaw Puzzle
See all of Summer's merch at her
her Zazzle Designercat Shop