I had an exceptionally busy shopping day!
It was kind of weird, though! For one thing, I had to sit in a ginormous red shopping cart that said Staples on it, even though we were at the usual big chain pet shop. The carts in the shopping center got totally mixed up. But that didn't stop me from meeting several really nice people.
The other frustrating thing was we were primarily there to buy food for the outside kitties. My human is only leaving out one bowl of food in the evenings now since we are only trying to trap the one kitten that's left, and maybe the dad. Don't worry — they are not starving! Our neighbor is mostly taking care of them, and considers them hers. My human is trapping them to be fixed because she's the one that knows the ins and outs of that sort of thing.
Yes, they are getting awfully fancy food for outside kitties. But that's because my human is tempting them with the good stuff. On the next trapping day, they may even get KFC.
Even though we mainly got not-for-me cat food, I did get to hang out on the cat trees!
But this wasn't the last of my shopping trip! There was more!
We stopped at yet another store on the way back. This one wasn't a pet store, although it had a section with pet supplies. It was sort of a combination hardware and gift shop called Virgil's. My human found out a few weeks ago that they were pet friendly and she needed to buy something there. And guess what? Yes, it was for the outside cats! It was a bag of something called diatomaceous earth. Apparently she uses it to keep the ants away from their food bowls.
There was sure some weird stuff at this store!
I actually seemed to enjoy being there, so my human said we could go back when she has more time.
Other posts you'll enjoy:
* * *
---
---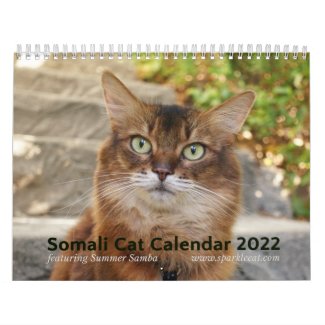 2022 Somali Cat Calendar Starring Summer Samba
See all of Summer's merch at her
her Zazzle Designercat Shop