Here I am, at the end of a busy conference-cat show weekend, and I won't lie. I wanted to play! It's a good thing my human brought one of my sparkle balls so she could throw it while she was talking on the phone with her boyfriend.
I don't have any photos from the session I did with my human because she was too busy to take photos. But it went well, and I was a big hit! I do want to mention something, though. My human put together a slide show, and I looked at it every so often… and one photo was of Binga! And I did a double take! The people in the front totally noticed it. Can you blame me? I felt like she had followed me to Houston.
After our session, we went down to the lower level area where the cat show was, and set up for a book signing.
I had all sorts of admirers! I think this guy was one of them, but he was also taking photos for CWA… and he did a photography session that I didn't attend, but that my human said was excellent. Even though my human already does lots of the things he suggested (including using stand-ins for set ups), she learned a couple of cool tricks.
Lots of people wanted to visit with me (and only a couple asked after my human's books). I even got to dress up, but I kept feeling like I was forgetting something.
But I finally figured it out!
That night was the awards banquet, and I got to wear my pretty dress! Did I win anything? If you aren't a CWA member, you will have to wait and see — and when you do see, you will understand why I made you wait!
I spent all of the next day at the cat show. My human did not like the area where we were benched — the row was too narrow for visitors. But a space opened up in the area where the spectators walked in, so we set up there instead. Do you notice anything funny here? I'm wearing a dress that wasn't even in the pile I had picked out to take! It was a last minute addition, and I think it was the best choice!
I am headed back home today, and I'm going to want to know why Binga followed me to Houston!
* * *
---
---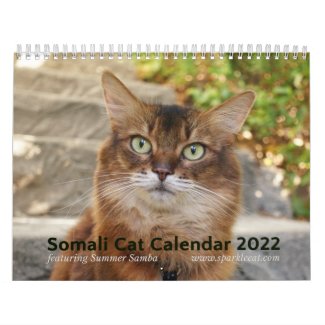 2022 Somali Cat Calendar Starring Summer Samba
See all of Summer's merch at her
her Zazzle Designercat Shop