I had the best travel day! I flew from BUR to PDX — that's Burbank Airport to Portland, OR, in case you don't know the letters. My human and I got to the airport with lots of time to spare, so I got to hang out in the boarding area. Lots of times people barely notice me because I'm so calm and quiet. One dad with a wild little boy stopped by to say hi. That was nice. I'm not scared of wild children as long as my human lets me know I'm safe. (I do like the quieter ones better, though!)
We did something different this time to get to the hotel. On the way to baggage claim, we ran into a couple of cat show people and they showed my human how easy it was to take the light rail. So we did that instead of taking an Uber. It was way cheaper — only $2.50 for one way, and it dropped us off right across the street from the hotel! My human let me look out the window for a few minutes, so I got to see parts of Portland that I never saw before. Usually I only see the hotel and the show hall.
It's colder in Portland than in Los Angeles, so my human brought warm clothes for both of us. I'm glad I got the chance to wear this ensemble. Can you tell that I actually know this looks good on me?
After my human got a few things done at the hotel and we had dinner, I got to go for a walk. I didn't get to wear the hat because my human didn't think I could keep it on for a whole walk. We went down to the first floor and lobby, and my human let me go where ever I wanted. Well, except for the area where there was some sort of executive party going on. She said we weren't invited. We also stopped by the front desk for a moment, and my human put me back in the carrier. The woman who helped us wanted to see me, so she brought me out again. The woman was really happy to see me. She told us that her cat, a pretty dilute tortie, had just recently died. My human told her about Binga, and showed her a photo.
So I had a good travel day, meeting people and doing fun things. Plus, I've got a cat show this weekend! I can't wait to meet old and new friends!
* * *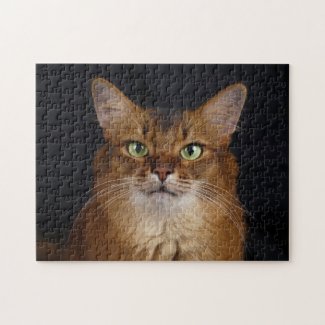 Somali Cat Photo Portrait Jigsaw Puzzle
See all of Summer's merch at her
her Zazzle Designercat Shop