It's a little chilly this week, but my human still wanted me to have some outside time. So she put on my leash and bundled me up. This time, I wore my pretty pink zip-up sweater coat.
I will admit, cold to my human and me means around 60. But we live in southern California, so that is plenty chilly here. If it were any colder than that, I'd have my parka on.
I insisted on sitting on my concrete table for a while, even though my human thought it must have been cold on my paws. I didn't stay for very long, and decided I'd rather go wander.
I have to say, 2021 doesn't smell any different than 2020. And my human still grabs a mask (or two) from her stack on the table every time she goes out. I keep waiting for some big change for the better. Maybe that will happen when most humans get vaccinated. Then maybe I can go back to doing therapy cat work.
For now, I'll just hang out and make happy paws in the grass.
I finished up by sitting on the steps and watching everything going on outside the house. My human, as always, was glued to her phone. I think my view was more interesting.
Other posts you'll enjoy:
* * *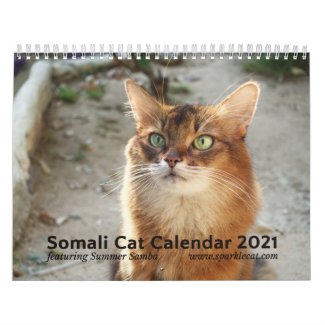 2021 Somali Cat Wall Calendar, Starring Summer
See all of Summer's merch at her
her Zazzle Designercat Shop