My house has something that most houses don't — a bridge! It is one of the reasons my human fell in love with this house. The bridge connects the second story of part of the house with the back patio. That way you don't have to walk down the stairs, through the whole house, out the kitchen door and up some more stairs to get to the back, which is what would happen without the bridge.
That white wall you see at the top of the photo is where the kitchen is. The second story of the house runs from the kitchen all the way over to the master bathroom at the other end, where the front of the house is.
Anyhow, it's time for selfies. I don't really like this angle. Who wants to see a big wall behind me?
I like this better — you can see the office I share with my human in the background. It's in a different part of the house than the bridge. Are you confused by all these different house parts? That's the other reason my human fell in love with this house. When she went to the open house, people kept getting lost and turned around… except for her. She figured out her way around right away. Anyway, let me move back a little so you can see more of me.
Here you go! So that is my bridge selfie.
* * *
---
---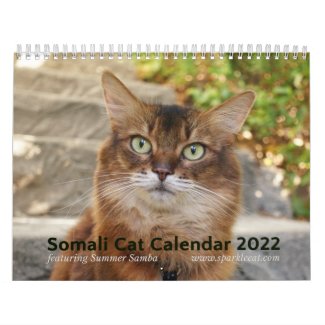 2022 Somali Cat Calendar Starring Summer Samba
See all of Summer's merch at her
her Zazzle Designercat Shop