Both my boxes post and my birthday post had some good outtakes so I thought I would share them with you today.
I had a lot of fun with the box photo session! And it wasn't just because of the boxes.
My human also brought out one of my favorite toys to keep things lively!
I had quite a few birthday outtakes! In this one, I was staring so intently at my birthday cake that my eyes were starting to cross!
Although I made short work of the cake, my human managed to get in quite a few photos. Most of them didn't come out very good, though! In this one, I am curling my tongue in some really weird way.
She actually got a number of weird tongue shots… here's another one!
No tongue here… just an embarrassingly weird face!
I hope you enjoyed my outtakes this week!
* * *
---
---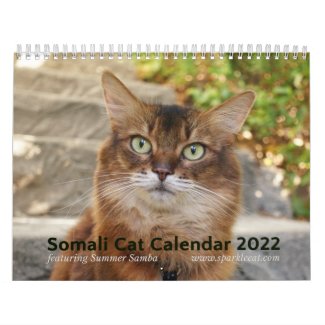 2022 Somali Cat Calendar Starring Summer Samba
See all of Summer's merch at her
her Zazzle Designercat Shop