And so it begins — the Halloween costumes! The last time we were at the pet store, my human found this one.
Yes, it says "Born to Unicorn," and it also says "One Size." Which is why my human has left the label on. Because when it says One Size, that usually means it winds up being too big for me. So she may want to return it later.
Suprisingly, the body does fit without the velcro straps hanging off awkwardly. So far so, um, good. I guess!
And even more surprisingly, the headpiece fits too! That's where these costumes usually fail, since I have such a petite head.
My human wanted to get a shot of me that imitated a unicorn rearing up on its hind legs. I'm not so sure how successful this was!
Since it fits, I guess this means we are keeping it. And maybe doing a video.
Other posts you'll enjoy:
* * *
---
---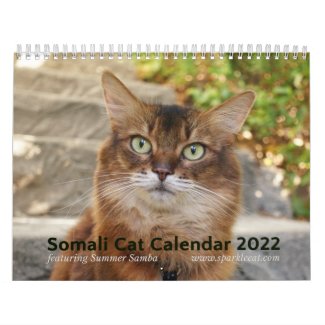 2022 Somali Cat Calendar Starring Summer Samba
See all of Summer's merch at her
her Zazzle Designercat Shop