I'm sorry to say that I don't have much for Dress Up Your Pet Day this year. My human has been keeping an eye out for something special for me, but has come up empty handed. So all I have to wear today are some old frocks. I picked out some dresses you haven't seen in a while, and I'm modeling them outside. At least there's that.
I don't remember the last time I wore this dress, and it is actually pretty cute.
I've worn this red polka dot dress a few times, but you don't see it very often. I like it, but mainly as a summer dress.
I've had this dress with the pink tulle skirt for a long time, but I think I've only worn it twice.
Here's the back. As you can see, it's got a skull painting, plus the words "Flawless." It's pretty different, isn't it!
So that's all I've got for Dress Up Your Pet Day this year. Maybe next year will be better!
Other posts you'll enjoy:
* * *
---
---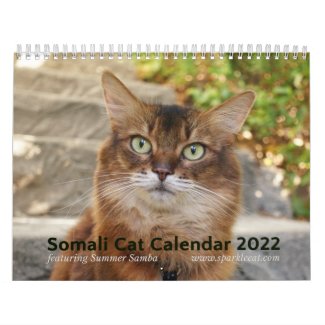 2022 Somali Cat Calendar Starring Summer Samba
See all of Summer's merch at her
her Zazzle Designercat Shop