As you may have gathered, my human is at BlogPaws this weekend. Lucky us, we get to have the sleepover pet sitter! At least that means there is a good chance I will get my food without Binga stealing it. So while we are hanging out with the pet sitter, my human will be running around the Grand Hyatt Denver, and she will have a bunch of bookmarks with her!
They are meant to publicize my new book and my website, of course…
But there's a bonus on the back: a selection of my "Cat Rules for Humans!" Of course I couldn't put them all down — there is not enough room on a bookmark — but some of my very favorites are there.
If your humans are at BlogPaws this weekend, make sure they hunt down my human so she can give them a bookmark! You will want them to know these important rules!
* * *
---
---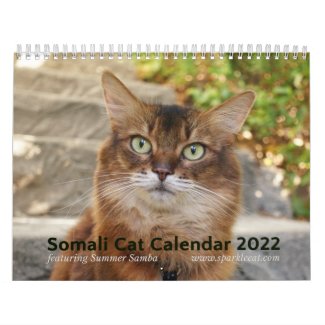 2022 Somali Cat Calendar Starring Summer Samba
See all of Summer's merch at her
her Zazzle Designercat Shop