I think most of you know that my human, along with being a publisher, is also an author. When she was growing up, she knew the kids of Earl Hamner Jr., who wrote Spencer's Mountain, the book on which the TV series The Waltons was based. One thing that really impressed her (as a fledgling writer) was all the foreign editions of Spencer's Mountain — it got translated into many, many languages! Only very lucky and successful authors have that happen.
Little did my human know that decades later, she would also be one of those fortunate ones, only with something not quite as wholesome as Spencer's Mountain. It was the book she co-wrote with Motörhead frontman, Lemmy Kilmister, White Line Fever, which earned that accomplishment. My human has lost track of all the languages White Line Fever has been translated into, but occasionally (not always), a new one shows up on her doorstep. The latest edition is in Serbian.
Serbian is a very strange language. I suppose they spelled my human's name phonetically, and since neither she nor I speak Serbian, we don't know if the spelling (and pronunciation) is correct. Anyhow, I don't think my facial expression above was very heavy metal. So let me try on a metal face.
How's this? But enough goofing around, it's time for me to grab the iPhone from my human and take my selfie! I want to pose with the book today, since my human is so thrilled with it.
Let me put the phone into selfie mode here…
Oops! I cut off most of the book, and my human's name isn't even showing. I guess I need to try again.
Ugh! Or maybe not. Once Binga shows up, selfie time is over.
* * *
---
---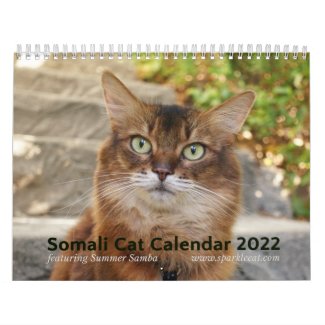 2022 Somali Cat Calendar Starring Summer Samba
See all of Summer's merch at her
her Zazzle Designercat Shop