Remember that cute photo of me with Rescued from Monday's blog post? It actually took my human a couple of days to get that shot! There was just one good shot. The rest of them… well, here they are.
Here I am, seeing if the book passed the smell test.
Because some of the stories are so gripping, I decided the book deserved my "dramatic cat" face. My human did not appreciate this.
I goofed off so much that my human actually gave up and threw the book in her laptop bag and brought it to our hotel room in Ontario.
She thought she was funny putting the book on me. I disagreed.
You can tell I was getting impatient with her silly antics!
I even walked off the set. Somehow, in the midst of all this my human did manage to get the shot she used. She lucked out!
You can buy Rescued on Amazon.
* * *
---
---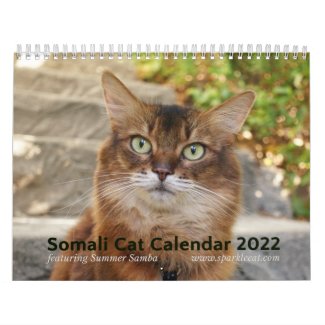 2022 Somali Cat Calendar Starring Summer Samba
See all of Summer's merch at her
her Zazzle Designercat Shop