Boodie's fur has been a mess lately. My human was going to give her a comb out, but then she has some messy litter box "issues." It must have been a virus going going around because we all had it — me, Smokey and Boodie — except Binga. I don't know how Binga got out of it! Anyhow, Boodie's back end was a little smelly on top of her fur looking ragged, so my human thought it was time to give her a spa day.
Boodie has had a bath exactly once before, many years ago. It was at the old house, when the humans were taking off the heating grates and painting them. My human told my boyfriend to cover up the heating vent holes because some cat was bound to get into them. He didn't believe it, and sure enough, Boodie showed up shortly after that with her white paws turned dark gray. So my human threw her in the bathtub with some baby shampoo and cleaned her up. But she's never had a sink bath like what I get. Fortunately for her, she was only getting one shampoo (I get two, plus some special rinses), plus a spritz of leave in conditioner.
Even though it wasn't going to be a show bath, my human still needed to make preparations. The day before, she clipped Boodie's claws. Boodie is a nice cat and does not bite or scratch, but my human didn't want to take any risks in case she freaked out. And even though she didn't have to set up the counter the way she does for me, she did need to make sure everything was Boodie-ready. Here are two of the most important tools: my wide-toothed metal comb, and treats.
Giving Boodie a bath was way different than giving me one! Although Boodie didn't struggle and it was easy to keep her in the sink, she had a lot more fur than me! One of the advantages to us Somali cats is we are single coated. Boodie has a double coat, and her fur is really thick compared to mine. The towels were really soaked after my human blotted Boodie dry.
My human wasn't sure how Boodie would feel about being blow dried, but she didn't mind all that much! The blowing air and the noise didn't bother her. She looked out the window for a while too. The only problem was, since she's got so much fur, it took a long time. Eventually she got impatient. Every time my human thought Boodie was getting too unhappy, or she was starting to get hissy (which she did a couple of times), she just gave her a treat. If there is anyone who is more food motivated than I am, it is Boodie!
My human didn't completely blow-dry Boodie because she could tell it was starting to wear on her, and our temperatures this week are in the mid-70s, so it was okay to let any damp parts air dry.
I think Binga was worried she was going to be next!
Doesn't she look much better than she did before? Plus she isn't stinky anymore.
I know for sure about the latter, because I checked.
* * *
---
---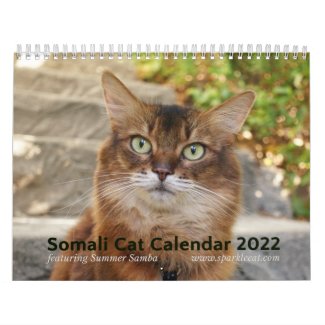 2022 Somali Cat Calendar Starring Summer Samba
See all of Summer's merch at her
her Zazzle Designercat Shop