It was past time for another comb-out for Boodie. My human said she was starting to look like "something the cat dragged in." Only a human would find that phrase funny.
Here's a better photo so you can see that she is looking a little bedraggled.
Fortunately, Boodie doesn't mind being combed. In fact, she rather enjoys it. Especially because she gets lots of treats while it's going on.
Boodie had some matting under her ruff, and my human gently combed through it. Boodie never gets matted enough to need them cut out. My human used to comb a huge pile of fur from Boodie, but not lately. Because Boodie is older and not as good about grooming, my human has picked up the slack for her so usually there are only a few comb-fulls of fur.
The hardest parts to get combed out on Boodie are under her chin and her back end. She doesn't really like either of those parts of her being combed. But my human managed to get to them eventually. You are probably wondering what makes this a holiday comb out, other than the week it is getting done.
Ta-da! My human put a little bow on her head.
As you can tell, Boodie needs a little help to figure out how to wear a bow properly. So I figured I would show her.
See? You are supposed to wear it like a crown.
* * *
---
---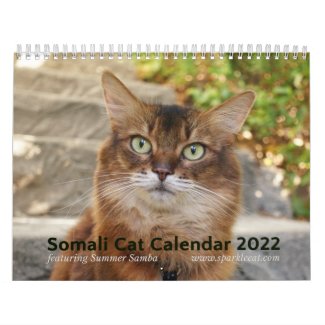 2022 Somali Cat Calendar Starring Summer Samba
See all of Summer's merch at her
her Zazzle Designercat Shop