Since Boodie's history is a little mysterious — she and her sister were put in a box and dumped in the parking lot of a vet clinic when they were five months old — we don't know exactly when her birthday was. We just guestimate it was sometime in May. And every year she gets a card from PetSmart.
And while PetSmart doesn't exactly give her anything, they do enclose a coupon for my human to use, providing she makes it to the store sometime before May 30. Since PetSmart is kind of far away, my human does not go there very often. This month, she made it there right before the deadline.
For a ten dollar purchase, you get a toy or treat that is worth up to three dollars for free. If you have been to any pet store lately, you know that three dollars does not buy much. But this time my human lucked out and found a whole package of toys! It must have been on sale or a closeout.
She could not wait to show it to Boodie to see her reaction.
It really was a lot of toys for under three bucks.
Usually Boodie is the first of us cats to be all over any toy, but she was less than impressed with this selection. Even though she did make an effort.
Well… make that half an effort.
Before long she was hanging around the kitty toy chest, looking for something more fun. My human is wondering if we're getting spoiled with all these toys. I just think Boodie would have liked her birthday gifts better if they had smelled like catnip.
So Boodie's birthday was something of a bust this year. At least there was something good playing on Bird TV.
* * *
---
---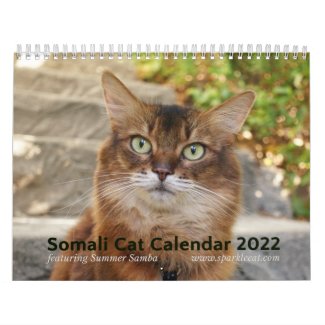 2022 Somali Cat Calendar Starring Summer Samba
See all of Summer's merch at her
her Zazzle Designercat Shop